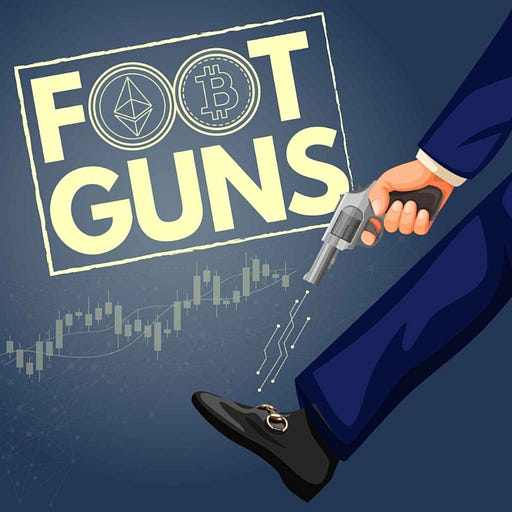 Jun 29, 2022 • 1HR 6M
Pod #36 M&A Bankers Descend On Crypto
Hal and Wasabi discuss fundamentals and valuation models of crypto protocols with Sam Bronstein and Jordan Stastny
It's your trade, we show you ways to avoid shooting yourself in the foot.
Alternate Listening Links: spotify, apple podcasts
---
Go subscribe to Alastor by Sam Bronstein and Jordan Stastny to keep up with everything M&A related in crypto.
Summary of topics:
Financial best practices for DAOs

How tokens differ from equities

Fei-rari merger

Uniswap Genie deal

Mergers vs Acquisitions

Best DeFi Verticals

Uniswap fee switch and the value of governance

Fundamental valuations in crypto

How to discount DeFi protocol future cash flows
---
Want more from Foot Guns? Become a premium subscriber and receive daily cheat sheets 365 days a year, private podcasts, access to our private discord channels and more.